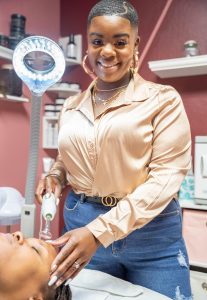 We caught up with Penrose alumni Yolanda Robinson to see where her career in the beauty industry has taken her!
What have you been up to since graduating? Ahhh!! Since graduating it's been a roller coaster! After walking across the stage in October 2018 and finally getting licensed in December of 2018, I Immediately started applying to different medical spas, chain spas, and day spas to only be let down. In February 2019, I went solo, working under another esthetician that allowed me to create a name for myself. In April, I quit because it just wasn't cutting it so i went to work for a chain lash place, and that was short lived. I then worked in the corporate world until I realized, I wasn't happy.. By Sept 2020, I took the big leap and signed the keys to my suite and it's been on go ever since! The best and scariest decision ever! I was finally able to go full time in my business March 2021!
I'm now the proud owner of EstiBlack Aesthetics, with myself and one employee located in Glendale. Also, Part owner of Pamper & Eatz; a luxury fine dining experience with a relaxing twist that launched in 2020! And I've just released my Medical Grade Skincare Line EB SKIN 2-22-2022!!
What has been your favorite part of being in the beauty industry?
My favorite part of being in the beauty industry is being a representative of it! Changing the narrative of what the beauty industry defines as beauty. Beauty is in all shapes, sizes, colors and demographics! So being able to normalize imperfections and debunk myths has been most satisfying when it comes to skincare!
What has been a challenge you have faced in the industry? My biggest challenge has been myself. Doubting my capabilities and my skills. But overcoming them has been so rewarding! The other challenge I faced was not being able to have the real world experience working straight out of school because "I didn't have experience". How does one gain experience if we're not offered the opportunity. Ultimately, I was forced into going solo. No regrets though! There was a bigger plan!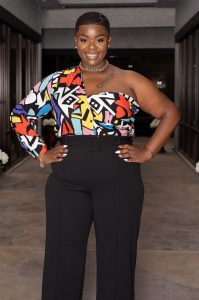 How did your education at Penrose prepare you for your job now? Penrose taught us way more than other schools! The hands on experience, the instructors and staff was amazing for us to not only pass state boards but to actually give us the confidence to walk into the industry being knowledgeable and trained. The curriculum is like no other! We have skills that other students have to obtain after graduation! Can't thank Penrose enough!
What advice can you give to our current students? Current student: be open, always be a student even after graduation! Have fun and be you!! Take every opportunity presented in school! Ask questions, challenge yourself and others! Put your best foot forward! I'm rooting for you!!
Follow Yolanda on Instagram @estiblack_aesthetics_