Did you hear? DiamondGlow® won The Beauty Authority's 2023 New Beauty "Best Exfoliating Facial" award! Lucky for you, we provide this award-winning treatment 😉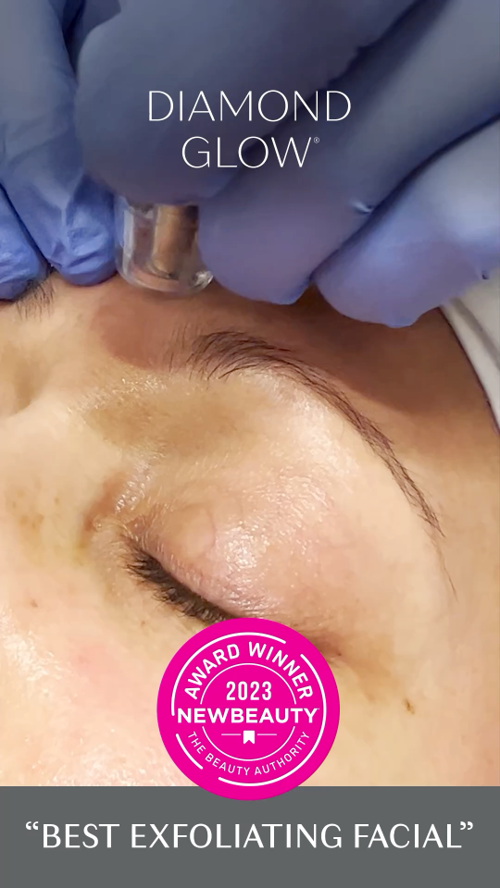 See for yourself and call our spa to book a DiamondGlow 💎
The DiamondGlow® device is a general dermabrasion device that gently removes the top layer of skin and delivers topical cosmetic SkinMedica® Pro-Infusion Serums onto the skin.
Skin naturally sheds dead cells in a 28-day cycle. Regular exfoliation helps to increase cell turnover, revealing renewed skin. DiamondGlow is the clinically proven dermabrasion treatment that harnesses 3X1 Technology simultaneously:
EXFOLIATES – the diamond tips provide a physical exfoliation to remove the top layer of dead skin
EXTRACTS – Vacuum suction gives a deeper clean by removing dirt, debris, and oil form the skin's surface and pores.
INFUSES – Targeted SkinMedica® Pro-Infusion Serums permeate the skin when pores are open and most receptive.
This treatment is not for everyone. Some typical side effects include a scratchy sensation, tightness, and redness. Rare side effects may occur.
#DiamondGlow #RevealYourRadiance #DiamondTip #DiamondTechnology #ProInfusion #PoweredbySkinMedica #FacialTreatment #Glow #Facial #GlowySkin #SkinGoals #Skincare #BeautyTreatment #ProfessionalFacial #SkincareRoutine #EvenAndCorrect