Learn the Skills to Become a Cosmetology Professional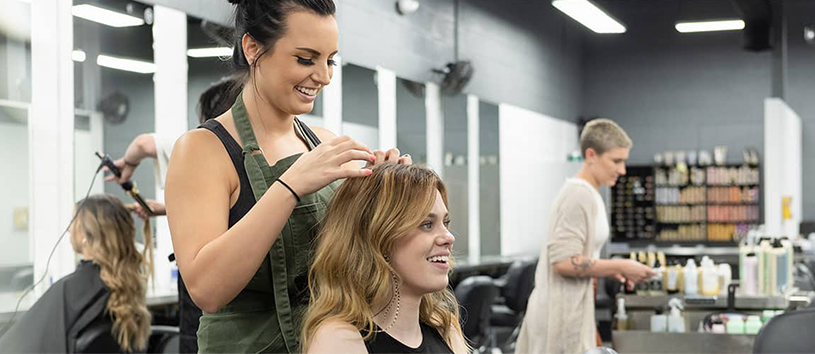 47 Week* Cosmetology Hybrid Program in Arizona
We are the first school in Arizona to be approved by the U.S. Department of Education to offer a Cosmetology Hybrid Program!
Our Cosmetology Hybrid program includes distance learning that happens off-site, online and at your convenience. The 4-Day schedule gives you more flexibility in your work and personal life while providing a comprehensive curriculum written and mapped around topics and skills directly requested by employers and industry professionals.
In our Cosmetology Hybrid program, you'll learn cutting, coloring and styling techniques as well as extensions, nails, skin treatments and more.
You'll be challenged creatively and technically with opportunities to excel on campus while utilizing our unique online learning portal to complete some of your studies away from campus.
Throughout the program, you will refine your industry and business skills through our 6 R's business curriculum and personal development curriculum covering topics including leadership, communication, public speaking, professional etiquette and more.
Cosmetology Hybrid Program Schedule
4-Day Schedule
Wednesday, Thursday, Friday and Saturday
1500 hours / 47 Weeks
9:00am – 5:00pm
The best way to see if Penrose Academy is the right fit for you is to see it for yourself. You can tour our facilities, and meet with both students and instructors. Book a Tour Now or Get more info.
Only Four Days a Week
Busy with other responsibilities? Balancing family, a part-time job, or both? We get it. At Penrose, our Cosmetology Program runs just four days a week to accommodate your schedule
You'll be able to…
Save time by commuting to class one less day per week
Take your stress levels down a few notches
Put more of your valuable time towards what's important in your life
And you can do this all while getting the education you need to feel confident about launching an exciting career in the professional beauty industry.
Program Details
Davines, Hattori Hanzo, Joico and CND product partnerships
Pivot Point Lab 2.0 based curriculum
Both classroom and hands-on training in our 70-chair Student Salon
All-school educational assemblies
Professional & Career Development classes
Semi-annual editorial styling and runway events
Aqua Hair Extensions certification
Curriculum
Your 47-week* program will be divided into six zones. Each zone's curriculum also includes life skills education, our comprehensive professional and personal development program designed to build your business and professional skills.
Technical Curriculum Breakdown
Master the technical skills with our comprehensive hands-on curriculum. These technical skill building blocks give you the foundation to grow your career in the professional beauty industry.
Haircutting
Hair Design
Hair Color
Men's Sculpting & Grooming
Manicures/ Pedicures
Nail Enhancements
Shellac Gel Polish
Editorial Design Challenge
Aqua Hair Extensions
Perms/Relaxers
Assisting Senior Students in the Student Salon
Model Workshops
Hair Removal
Skin Treatments
Lash Lift
Lash & Brow Tint
Makeup
State Board Boot Camp
Industry Day Networking
Theory Curriculum Breakdown
Learn your theory through LAB 2.0, a unique interactive online learning platform available through our partnership with Pivot Point.
Haircutting
Trichology
Hair Design
Salon Ecology
Design Decisions
Chemical Texturing
The Law of Color
Chemistry
The Study of Nails
Professional Development: Business Basics
Salon Business
The Study of Skin
Anatomy & Physiology
Wigs & Hair Extensions
Texture
Infection Control and Safety
AZ State Board Laws & Regulations
Final Exam Review
★ ★ ★ ★ ★
Ever since I was little I have LOVED hair and makeup and have always wanted to go into Cosmetology. I never had the guts to go for it until I toured Penrose and my husband pushed me to go after what I loved. What stood out about Penrose? The atmosphere! I loved the mini mission statement and the enthusiasm of the teachers and students. It seemed like an empowering place to be and I knew instantly it was the place for me.
Tuition
At Penrose Academy, we believe in being transparent and upfront about tuition costs so you can make an informed decision when choosing a school. We're here to work with you, one-on-one, to help you determine the best financing options for you. In addition, we provide financial aid guidance and information on any scholarship opportunities available. We want to do everything in our power to help you achieve the education and the career you've always wanted.
If you have questions about tuition, or the financing options that may be available to you, please contact us. We'll work with you individually to find the ideal solution.
Financial Aid
From federal financial aid to financing, we'll work with you to find the best solution for your financial needs. View complete financial aid and financing information.
Is a Rewarding Beauty Career Right For You? Get More Info…
If you're interested in learning more about careers in beauty and exploring whether Penrose Academy is right for you, fill out the form to receive more information or take our online training readiness quiz!
For immediate questions, give us a call at 480-222-9540.
*Program length when completed in normal time.