Student Salon, Spa & Medical Spa
Visit Penrose Academy's Student Salon, Spa & Medical Spa for Affordable Cosmetology, Esthetic and Laser Services
Our Student Salon, Spa & Medical Spa offer personalized hair, skin and laser services. All services are performed by supervised students using top products and tools from today's industry leaders. We offer reasonable prices as well a comfortable and clean environment.
We feature only the latest products and services in our Student Salon, Spa and Medical Spa. Be sure to check back often or subscribe to our mailing list to stay up to date with our latest specials.
About Our Student Salon, Spa & Medical Spa
At Penrose Academy, we are confident in our students skills and abilities. We invite you to visit our Student Salon, Spa and Medical Spa to see for yourself. We offer a variety of customized hair, skin and laser services designed to help you reach your beauty and skin health goals. Our accomplished instructors supervise every appointment to ensure that our clients are completely satisfied with our student  services.
Best hair cut I've ever had. Alexi did a great job. The support from the teachers was the icing on the cake. I will return for sure. The entire experience was excellent.
How Our Student Salon, Spa & Medical Spa Work
All services are performed by students under the supervision of licensed educators. Your service will start with a greeting and a brief consultation with the student you have scheduled your appointment with, then you will be joined by an educator to review the services you have elected to receive. The student will perform your services with guided advice and assistance from one of our instructors.
At the conclusion of your service, the student will guide you to our retail marketplace and give you product recommendations for you to re-create your look or keep your skin healthy at home. Before you leave one of our guest relations coordinators will assist you with paying for your services and products, then schedule your next appointment in our Student Salon, Spa or Medical Spa.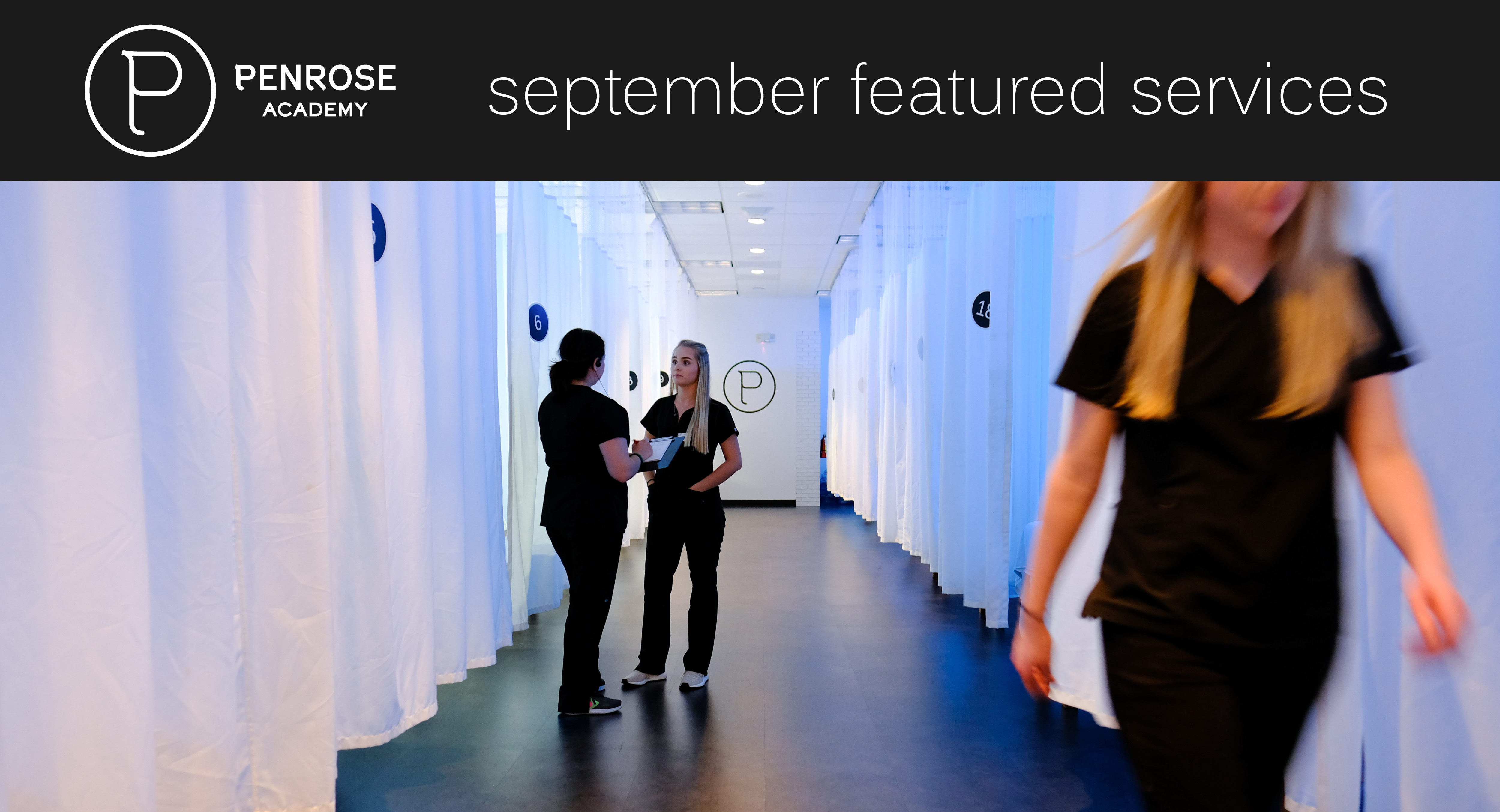 It's back to school time!
That means early mornings, dropping off kids, and stressful commutes.
Take a break and relax a little with us.
Come in and enjoy the following featured services Monday – Thursday for the whole month of September.
In the Student Salon
Haircuts-$10
Penrose Signature Blow Dry-$15
Partial Highlight-$35
Balayage-$55
In the Student Spa
Facials-$25
Back Facials-$30
In the Student Nail Spa
Tips with Overlay – $15
Have you heard about our new Brow Bar? Come in and try out our following new services!
Brow 360 + Tint – $15
All services performed by students under the supervision of licensed educators.
To schedule services, please call 480.222.9540
Frequently Asked Questions
May I tip the student that performs my service?
We are a non-tipping facility. However, it is possible to show your appreciation to the student who performed your services. Booking your next visit before you leave, purchasing recommended retail products, adding on additional services, and referring your friends and family to make future appointments with that student are all great ways you can help further the student's education.
Do the educators perform any of the services?
No. All of our students are monitored and supervised by licensed educators during your Student Salon, Spa, and Medical Spa service; however, these educators do not perform services.
Can I bring my own materials, products, color, or tools?
We have exclusive partnerships with today's top product companies and are unable to accommodate any outside brands.
How long do services take?
Times of services vary depending on the service being performed and the level of student performing the service. When you book your appointment with one of our Guest Relations Coordinators they can give you a better estimate of the amount of time you can expect to spend in our Student Salon, Spa or Medical Spa.
Why is the student I am requesting for my service unavailable?
There are many reasons why a student may be unavailable for your requested appointment. However, due to FERPA laws, we are unable to provide you with the reason. Rest assured we will do our best to find another student or another appointment time that works for you, and we thank you for supporting our students!