Learn the Skills to Become a Hair Styling Professional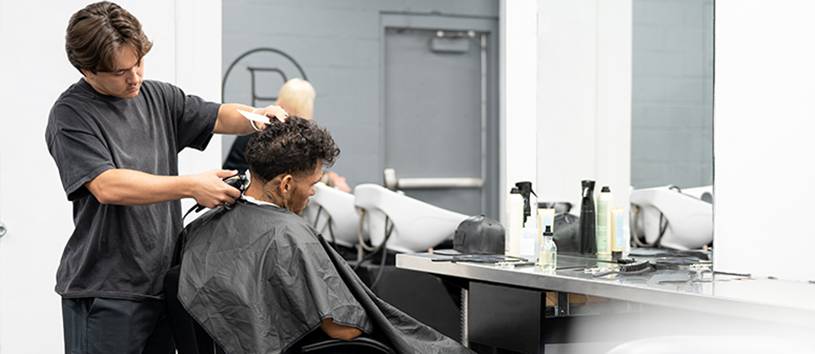 30 Week* Hair Hybrid Program in Arizona
Penrose Academy is now offering a new license for Hair Styling with both full-time 4-Day and part-time 2-Day schedules. If you're focused exclusively on creating exceptional hair, our hair hybrid program is right for you. With our Hair Hybrid program, we give you the chance to jump on the fast track to becoming a licensed stylist.
With Penrose's Hair Hybrid program, you'll learn cutting, coloring, styling, extensions and more in through a combination of on-campus and online learning using Pivot Point Lab 2.0 Cosmetology curriculum, a unique interaction online learning platform. Learn technical and theoretical components of hair styling, with both classroom education and hands-on training in the student salon.
Learn technical and theoretical components of hair styling, with classroom training, assisting, and time spent on the Student Salon floor. Complete four hours of online distance education per week at your own convenience, from wherever you choose. You'll also learn valuable business skills through our 6 R's professional development program exclusive to Penrose Academy.
*Our full time 4-day schedule is a 30 week program and our part time 2-day schedule is a 50 week program


Hair Hybrid Program Schedules
4-Day Schedule
1000 Hours / 30 Weeks
Wednesday, Thursday, Friday, and Saturday
9:00am – 5:00pm
2-Day Schedule
1000 Hours / 50 Weeks
Tuesday and Wednesday
8:30am – 5:00pm
The best way to see if Penrose Academy is the right fit for you is to see it for yourself. You can tour our facilities, and meet with both students and instructors. Book a Tour Now or Get more info.
Two or Four Days a Week – You Choose
Busy with other commitments? Have a family, a job on the side, or both? It's tough to fit everything in and we understand that. At Penrose, we offer two versions of our Hair Hybrid Program: either two days or four days a week – whatever works best for you!
You'll be able to…
Save time by commuting to class two less days per week
Take your stress levels down a few notches
Put more of your valuable time towards what's important in your life
And you can do this all while getting the education you need to feel confident about launching an exciting beauty career.
Program Details
1000 hours: 30 weeks* (4-Day schedule) or 50 weeks* (2-Day schedule)
Four hours per week of distance learning off site, online and at your convenience
4-Day schedule (30 hours/week on campus): Wednesday, Thursday, Friday and Saturday from 9:00am to 5:00pm
2-Day schedule (16 hours/week on campus): Tuesday and Wednesday from 8:30am to 5:00pm
Davines, Joico and Hattori Hanzo product partnerships
Pivot Point Lab 2.0 based curriculum
Both classroom and hands-on training in our 68-chair Student Salon
All-school educational assemblies
Professional & Career Development classes
Semi-annual editorial styling and runway presentation events
Aqua Hair Extensions certification
Curriculum
Your 4-Day/30-week* or 2-Day/50-week* program will be divided into four zones. Each zone's curriculum also includes our 6 R's curriculum, our comprehensive professional and personal development program designed to build your business and professional skills.
Technical Curriculum Breakdown
Master the technical skills with our comprehensive hands-on curriculum. These technical skill building blocks give you the foundation to grow your career in the professional beauty industry.
Haircutting
Hair Design
Hair Color
Men's Sculpting & Grooming
Editorial Design Challenge
Aqua Hair Extensions
Perms/Relaxers
Model Workshops
State Board Boot Camp
Industry Day Networking
Theory Curriculum Breakdown
Learn your theory through MindTap, a unique interactive online learning platform available through our partnership with Milady.
Haircutting
Trichology
Hair Design
Salon Ecology
Design Decisions
Chemical Texturing
Chemistry
Professional Development
Hair Color
Salon Business
Anatomy & Physiology
Electricity
Arizona State Board Law
Wigs and Hair Additions
Infection Control and Safety
Final Exam Review
★ ★ ★ ★ ★
Best hair cut I've ever had. Alexi did a great job. The support from the teachers was the icing on the cake. I will return for sure. The entire experience was excellent.
Tuition
At Penrose Academy, we believe in being transparent and upfront about tuition costs so you can make an informed decision when choosing a school. We're here to work with you, one-on-one, to help you determine the best financing options for you. In addition, we provide financial aid guidance and information on any scholarship opportunities available. We want to do everything in our power to help you achieve the education and the career you've always wanted.
If you have questions about tuition, or the financing options that may be available to you, please contact us. We'll work with you individually to find the ideal solution.
Financial Aid
From federal financial aid to financing, we'll work with you to find the best solution for your financial needs. View complete financial aid and financing information.
Is a Rewarding Beauty Career Right For You? Get More Info…
If you're interested in learning more about careers in beauty and exploring whether Penrose Academy is right for you, fill out the form to receive more information or take our online training readiness quiz!
For immediate questions, give us a call at 480-222-9540.
*Program length when completed in normal time.