Did you know our birthday is next month? We have been open for nearly 13 years and have had a plethora of students attend our academy. With hard work and dedication, our students go on to do amazing things in the industry. Across the valley you can go into most salons and spas, and a Penrose Academy alumni is sure to be there. We even have alum working in Hollywood with celebrities…. Our mission is to educate, empower and connect our students to their professional goals, and with a 90% placement rate, we are proud to be doing that.
Penrose Academy chatted with alumni Annie Thurston, to see what she was up too.
What are you currently working on? I am currently in the the process of building an exciting new concept- stay tuned for an exciting announcement in the next coming weeks!
What do you like most about your job/industry? I love the ability to help people feel like the best version of themselves. When it comes to injectables, good work is invisible. My goal is always for you (and your friends and family) to think that you look well-rested and lovely! Also, aesthetics is really something that allows me to use my creativity- it's like art.
How did your education at Penrose prepare you for your job now? My education at Penrose helped me to network, learn about active ingredients and effective procedures, as well as embrace my creative take on aesthetics. Penrose was the foundation of my educational process, and I absolutely love that I still use and practice the things I learned (almost ten years ago!) prior to going to nursing school to become a Board-Certified Aesthetics Nursing Specialist (Nurse Injector). Getting Injectables without proper skin care is truly a waste of time, and I always say, "it's like making a bed with dirty sheets- you just shouldn't do that!" ;) I love Penrose and would highly recommend their program to anyone interested in pursuing a career in aesthetics- it is truly state of the art and top of the line.
What advice can you give to our current students? Always be true to yourself and your passions- if there is a will, there is a way and you can be successful beyond your wildest imagination if you embrace and embody the things you believe in. I would also encourage students (and professionals) to continuously learn and evolve in their practices. The aesthetics and hair industries are always changing, and it is much easier to keep up, as opposed to playing catch up. I also enjoy learning and believe it is another outlet to meet and nurture professional relationships that can help support you, and the future growth for your best self. "If you 're the smartest person in the room, it's time to change rooms."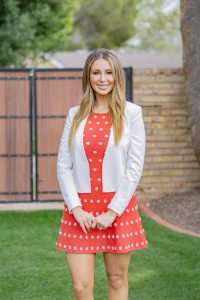 Photos courtesy of @thewhittonhouse
You can follow Annie on Instagram @nurseannabelle